We can make repairs to your existing fixtures, or replace them with more efficient water conservation fixtures to save money on your water bills.
WaterSense labeled toilets are available at a wide variety of price points and a broad range of styles. EPA estimates that a family of four that replaces its home's older toilets with WaterSense labeled models will, on average, save more than $90 per year in reduced water utility bills, and $2,000 over the lifetime of the toilets. Additionally, in many areas, utilities offer rebates and vouchers that can lower the price of a WaterSense labeled toilet.
Look for the WaterSense Label!


Whether remodeling a bathroom, starting construction of a new home, or simply replacing an old, leaky toilet that is wasting money and water, installing a WaterSense labeled toilet is a high-performance, water-efficient option worth considering. If every American home with older, inefficient toilets replaced them with new WaterSense labeled toilets, we would save nearly 640 billion gallons of water per year, equal to more than two weeks of flow over Niagara Falls!
See what rebates are available in your area at www.toiletrebate.com.
Faucet Flow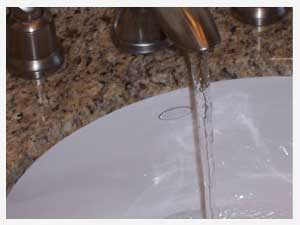 Faucets account for more than 15 percent of indoor household water use-more than 1 trillion gallons of water across the United States each year. WaterSense labeled bathroom sink faucets and accessories can reduce a sink's water flow by 30 percent or more without sacrificing performance. We could save billions of gallons each year by retrofitting the country's 222 million bathroom sink faucets with models that have earned the WaterSense Label.